The Art of Shoes Exhibition

Manolo Blahnik used the term 'joy' to sum up his 46 years in the profession, exhibited and celebrated in Milan via a brand new exhibition. Running from January 26 to April 9, the "Manolo Blahnik. The Art of Shoes" retrospective showcases 212 shoes, chosen amongst over 30,000 different styles, and 80 sketches at the suggestive, 18th-century place of Palazzo Morando, located in the city's tony district near Via Montenapoleone.
Blahnik said that he enjoyed being in the profession he was, admitting that money hasn't been on his mind when drawing a set of shoes, whether they be formal shoes or casual ones, but what he's ever worked on was done simply because he enjoys it.
Curated from Cristina Carrillo de Albornoz, who has been working on the development of the project for the previous 2 years, the exhibition aims to celebrate Blahnik's profession for a kind of art, highlighting the designer's imagination, craftsmanship, and vision. Divided into six sections based on Blahnik's leitmotifs and inspirations, the place involves the "Gala" section, showing the many imaginative styles, like the ones made for Sofia Coppola's film "Marie Antoinette." Dedicated areas focusing on artwork, materials, architecture and the numerous geographical influences Blahnik needed throughout his imaginative process will also be part of this display.
According to the designer, inspiration is something he doesn't lack, which is one of the reasons he won't ever follow trends. He likes to leave that for other people to do. The "Nature" section of the exhibit showcases Blahnik's personal favourite of the whole exhibition. Called "Ivy," the botanical-inspired green suede sandal-heel was made in 1972 for fashion style designer Ossie Clark. For some reason Blahnik explains that he has a true affection for the womens shoes.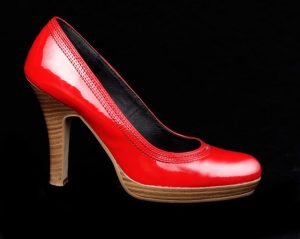 Moreover, the design created for his beloved friend Anna Piaggi can also be a standout piece, exhibited from the "Core" area one of the styles specializing in significant times in the designer's lifetime.
Anna Piaggi has become the soul of Milan for Blahnik perso+nally, seeing her as a sister, a "daily function of art" along with a significant inspiration throughout his lifetime. Blahnik recalled the way Piaggi was the person who brought him into town, to use local factories. In addition, he emphasized how Italians never completely got her. Everybody thought she was always an eccentric woman but she had been much more and thus his womens pumps are inspired by her. Blahnik saw her having "complete intellect and kindness," among other attributes and still misses her now.
Along with Piaggi, Blahnik dedicated the display to another one of his cherished Italian friends: long-time Vogue Italia's editor in chief, Franca Sozzani, who died on December 22. He adored her and it had been such news since he found out she had been sick but did not think she could go so quickly, showing that Sozzani herself asked him to create the display so quickly and so soon. He believes that this is her display.
Going ahead, the designer said the way the namesake company will adhere to a more digital route, focusing on the internet platform under the influence of his niece Kristina. In the meantime, he will continue to sketch and also operate on additional collaborations, after the achievement of those found in 2016 using Rihanna and Demna Gvasalia's Vetements, whose denim "9 to 5" boots and glowing "Fisherman's Boot" fashion, respectively, were exhibited in the display.
He revealed that he is doing just a small alliance with a young woman, called Grace Wales Bonner.  The 25-year-old, Central Saint Martins' graduate designer has been the winner of this LVMH Young Designer Prize at 2016, chosen by a prestigious panel which comprised Karl Lagerfeld, Nicolas Ghesquière, Phoebe Philo and Marc Jacobs. She is very young, delicate and he appreciates her sensibility. She has very clear thoughts and enjoys what she is doing, Blahnik explained.
Milan is just the first leg of the touring exhibition, which will stop in additional locations for the designer. These include the State Museum Hermitage in St. Petersburg, Russia, which he frequently resembles inspiration; the Museum Kampa in Prague, Czech Republic, That's the paternal house of his loved ones and the Museo Nacional de Artes Decorativas at Madrid, to honor the designer's Spanish origins. For the final stop, the series will be held in the BATA shoe museum in Toronto in 2018.
To celebrate the global introduction of the display, Blahnik also collaborated with the Four Seasons Hotel in Milan, situated a few steps away from Palazzo Morando. The designer identified the resort as a "home-away-from-home" for more than 20 years, staying in the place during his work excursions in town. Exclusively designed by Blahnik for the hotel, navy slippers in satin and lace, adorned with golden embroidery will be given to selected guests until April 9. Additionally, guests are also supplied entries to the exhibition and distinctive pedicures and massages in the resort's spa. They may not be sneakers or beach shoes but Blahnik is and continues to create works of art.